TONY'S CURBSIDE CARRYOUT
DURING THE "SHELTER IN PLACE", TONY'S WILL BE DOING CURBSIDE CARRYOUT ONLY. 
YOU CAN PAY OVER THE PHONE WHEN YOU PLACE YOUR ORDER. 
WHEN YOU ARRIVE, JUST PULL UP TO THE DOOR AND WE WILL BRING IT OUT TO YOU. 
HOURS: 
TUESDAY – THURSDAY 4 PM – 7:30 PM
FRIDAY AND SATURDAY 4 PM – 8 PM
CLOSED SUNDAY AND MONDAY 
TO PLACE YOUR ORDER CALL 618-462-8384 AFTER 3:30 PM
FOR DELIVERY SERVICE PLEASE CONTACT "WE DELIVER" AT 618-216-6494 TO SCHEDULE YOUR DELIVERY BEFORE CALLING TONY'S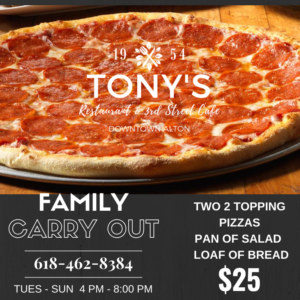 WELCOME TO TONY'S RESTAURANT
FOR OVER 60 YEARS, LOVERS OF FINE FOOD AND SPIRITS HAVE TRAVELED NEAR AND FAR TO A CHARMING RIVER TOWN CALLED ALTON TO DINE AT THE WORLD-RENOWNED TONY'S RESTAURANT. TONY'S HAS BEEN OWNED AND OPERATED BY THE TONY AND EDIE VENTIMIGLIA FAMILY SINCE 1954.
VOTED THE BEST STEAK, BEST HAPPY HOUR, BEST ATMOSPHERE AND BEST OUTDOOR DINING BY THE PEOPLE OF MADISON COUNTY!